Using Sustainable Wooden Cards For Hotel Key Cards
From Cherry to Mahogany, and from Oak to Maple, sustainable wood cards for hotel keys are an elegant alternative to plastic. Wood cards can be used to provide important details, like who to return a hotel key to if it's found. The two main options a hotel would use are contactless tech or NFC, for example mifare 1k or ultralight C chips inside or magnetic strips. Just as is the case with plastic hotel key cards, the wooden ones can also be engraved in your choice of colours.

So, what makes a wooden hotel key card an excellent choice for your property?

Shop Sustainable Wooden Cards
Sustainability


Sustainable wood cards may be your preferred choice if you have concerns about the amount of plastic that you're using throughout your business. Recyclable plastic cards are another option. Eco card printing with a 10-14 working day turnaround ensures that you'll have your key cards quickly and that their production won't harm the environment. Wooden hotel key cards are also ISO14000 Compliant. They're completely biodegradable, leaving no lasting mark on the planet. Wooden key cards work just like plastic cards. They can be used again and again, reducing your carbon footprint.

luxury


Wooden cards for hotel keys add a touch of luxury and elegance. Choose from a selection of beautiful woods, with natural grains, knots and tones that make every card unique.

The natural beauty of a wooden hotel key card cannot be denied. The cards are also not bulkier than their plastic counterparts, which means that they're just as convenient and easy to carry.

Personality


Laser etching allows you to add any note you like to your key card. Most people choose a room number on one side, and 'If lost, please return to...' on the other. You can also choose laser cutting, to cut the wooden key cards to the shape of your choice. Perhaps you'll have every card cut to the shape of a luggage tag or something that matches your hotel name? You could even have cards that are the same shape as the front of your hotel or guesthouse! How about surfboard-shaped cards for your hotel by the beach, or a simple circular or rectangular design?

Simplicity


Do you scan your hotel cards when checking your guests in and out? With a wooden card, you can even have engraved bar codes that will work with your existing system. You can add all of the necessary details in case a key and card are lost, including your hotel name and address.

Wooden hotel key cards are likely to be compatible with all of your existing equipment, which means that it's easy to make the switch.

Ordering hotel key cards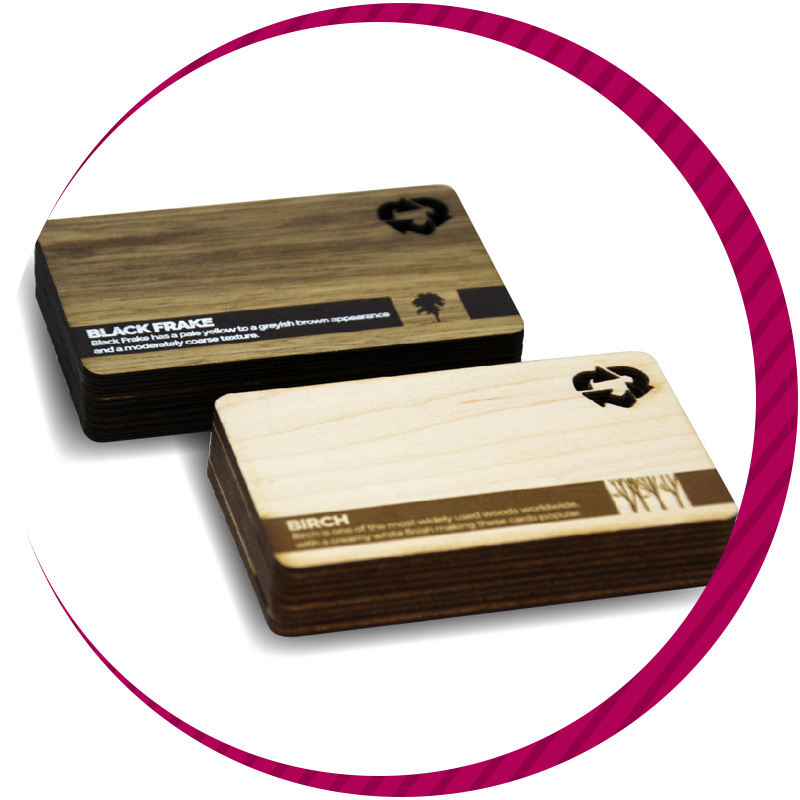 If you're ready to start using sustainable wood cards, then it's time to choose a design. Select from a choice of 8 different woods, then decide if you'd like single or double-sided printing. What will you need your key card to say? It is important that your card includes a bar code?

Order between 50 and 1,000 key cards with ease, covering hotels of almost every size. If you need a smaller or larger number, then we're happy to discuss a custom quotation. We can talk through any specific requirements by email or over the phone. We guarantee complete satisfaction, and we'll work with you to create the cards that you need.

Waiting for your order


You won't be waiting long for your new wooden hotel cards with a 10-14 working day turnaround, and next day dispatch with free UK mainland delivery. If you're ready to make the switch, it couldn't be easier to order sustainable wood cards. For more information, simply give us a call or contact us via live chat.